Explore the beauty of the wilderness, page for page.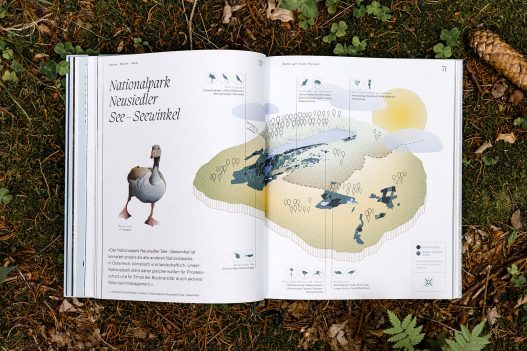 Babbling brooks, wild forests, steppes, and breathtaking riverine landscapes. The national parks of Austria protect the country's most diverse habitats. This is where nature remains truly natural — raw and untamed. But how much of such wilderness really still exists? What role do national parks play and how can they help protect the climate? Author Christina Geyer asks these and other crucial questions, advocating for more "trust in nature", or "NatUrvertrauen", as the volume is titled in German.
We have brought the biodiversity of Austria's national parks to life with the design, allowing an organic layout to blossom from the photography, illustrations, and typography. A color-coded system helps readers find their way through a wilderness of pixelation, shapes, and letters, acting as guide to the various topics in the book and making finding answers easy and intuitive.
More Information
CLIENT

Servus Verlag, Benevento (Red Bull Media House)

SERVICES

Editorial Design

AUTHOR

Christina Geyer

Photography

ILLUSTRATION

Printing House

PHOTOGRAPHY (PORTFOLIO)

Award

Red Dot Award 2022, Brand & Communication Design; CCA 2023 (Creativ Club Austria) Bronze, Editorial & Communication